I'm always looking for the perfect garden hose. There's not much I hate more than trying to roll up a heavy, kinky, awkward hose. Last year I ordered one of the lightweight hoses from Gardener's Supply and I was pretty happy with it. It's sooo much lighter and easier to carry around, and it rolls up pretty well. I used that one in the front yard, so this year I decided to make my life easier and just get another one for the backyard.
The hose I ordered is the Super Slim Lightweight hose, $59 for the 50 foot length. It's a smaller diameter hose (1/2"), so the output isn't quite as strong but I found it perfectly adequate for watering and for sprinklers. And the bright colors are a bonus--last year I got the moss, and this year I got eggplant (pictured below). Really, you won't believe the difference in the weight.
Super Slim Lightweight hose from Gardener's Supply
And here are a few more I've been looking at. This hose from Williams Sonoma looks pretty similar and I love the orange.
Williams Sonoma Slim and Light Professional hose
I love all the Dramm garden tools, and this bright yellow hose is pretty great too.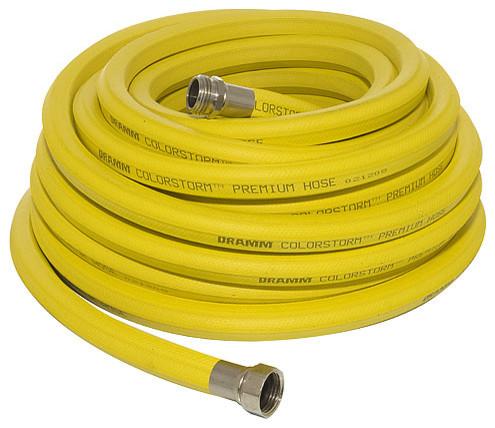 Dramm ColorStorm Professional Rubber hose
And garden writer Margaret Roach likes these slim hoses from Water Right.
Water Right Slim and Light hose
And Gardenista likes this one from Terrain.
Heritage Garden hose from Terrain
If you need a new hose this year, it's worth checking out these colorful choices. Just don't get this
one
!