I am always on the lookout for interesting garden chairs. Here are just a few from Chanticleer that I really liked. All the furniture in the garden is made by the staff at Chanticleer. Loved the shape of these buttery yellow chairs.
And of course, twig chairs, have always loved those.
 
These French blue chairs were so pretty and inviting.
And how about this cool sofa and chairs made from stone?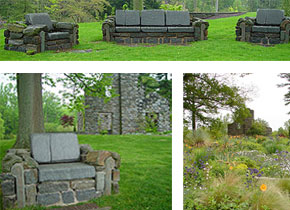 Probably my favorite chairs are these simple "Wave Hill" chairs that Margaret Roach has on her farm. They are built from a pattern that you can purchase from Wave Hill.
The Wave Hill Chair, a signature product offered through The Shop, is based on a chair designed by the acclaimed Dutch architect Gerrit Rietveld in 1918 and now part of the permanent collection of the Museum of Modern Art. Compatible with virtually any architectural form, the Wave Hill Chair provides a welcome alternative to the Adirondack chair and its various redwood counterparts. (From the Wave Hill catalog.)