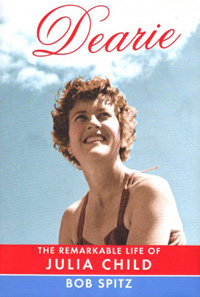 Julia Child loved people almost as much as she loved cooking, and she called her friends "Dearie," thus the title of this book. I have been a Julia Child fan for many many years since living in France and learning to love French food, and have even made several of her recipes back in the day (mostly desserts). So I am always interested in any Julia book that comes out, and I have been waiting to read this newest biography of Julia by Bob Spitz, which was published to coincide with what would have been her
100th birthday
in 2012. It's a hefty book, over 500 pages long, so I thought I'd probably skip some chapters, but happily I found the entire book fascinating. Spitz writes about her whole life, but it's when Julia Child meets Paul Child in her 30s and moves to Paris that the book really takes off. She did not learn to cook or appreciate good food until she was 40, and it truly was a "light bulb" moment (it was while eating sole meuniere in Rouen--"the most exciting meal of my life," she later said).
"The sole was so very fresh, with it's delicate yet definite texture. This was --fish! It tasted like the sea. Juicy--My God!--it fairly oozed a geyser of juices. And the butter! It was sweet and creamy, loaded with butterfat, and caressed her tongue with a slick, silky richness. She'd eaten butter all her life, this this defied all her previous conceptions." p. 171
And she didn't just learn to cook, she went to Le Cordon Bleu in Paris and learned to cook classical French food at a time when most Americans were happy with casseroles and jello salads. She became close friends with two French women, Simone Beck and Louisette Bertholle, with whom she would later write
Mastering the Art of French Cooking
.
I loved reading about her food discoveries in Paris, and the markets where she shopped and the meals she had in the little French bistros she and Paul frequented. I had no idea that it took her and her co-authors Simone Beck and Louisette Bertholle more than 10 years to complete
Mastering the Art of French Cooking.
Every recipe was tested and refined 15 to 20 times in their tiny French kitchens and Julia was obsessed with the details of every recipe. While the French women were more inclined to be vague in their instructions, Julia wanted to make French cooking understandable and accessible to American cooks and had to press them repeatedly to make their recipes more precise. The way Spitz describes the ingredients and the process of cooking these recipes is remarkable--your mouth is practically watering as your read.
It's so fun to hear accounts of her friendships and entertaining with famous cooks, like James Beard, Alice Waters, Wolfgang Puck, Elizabeth David, Sara Moulton, and of course Jacques Pepin, with whom she wrote several books and worked with on tv. One fun fact is that she loved Goldfish crackers and liked to serve them as hors d'oeuvres. Then of course came her surprising and immediate success on public television. Who knew watching someone cook an omelet on television could be so entertaining? Julia Child was surely the first of the cooking shows and absolutely changed the direction of public television, and indeed paved the way for today's tv cooks and the Food Network. She kept working and cooking into her 90s, and Spitz describes her later years with great care and affection. The greatest gift the author gives us in this book is that Julia truly comes to life. She wasn't perfect, that's for sure, but she was always true to herself. She was a huge personality, opinionated and passionate, loud and bossy, a good wife and a good friend, right up until her death in 2004, two days before her 92nd birthday. A great read, Dearie.